India: First stop: 48 hours in New Delhi
This trip to India was mostly planned around Rajasthan and Goa. The 48 hour stop in New Delhi was just to spend some time at my aunt and uncle's who I was meeting after a long time, catch some sleep, do some light shopping and take the family out to Indian Accent and Lakhori (two restaurants I have been super eager to check out) and enjoy a nice meal with them.
I had a good plan for a short 48 hours visit but things started changing on the way.
I'm always too excited on my way to India and I can't sleep so in my 18 hours of flying Seattle-Dubai-New Delhi I watched about 5 movies. Love Emirates for stocking up on Bollywood. (and flying over the north pole :)) Anyways, one of the movies I watched was Mohenjo-Daro. The movie painted a picture of how my historic favorite Indus Valley civilization was forced to travel east due to floods and resettling on banks of the rivers Ganga and Yamuna. The later flows right by modern Delhi.
So in the middle of the flight, I was suddenly romancing the idea of exploring this ancient capital and discovering layers of civilizations and any modern day imprints on culture and food ; In addition to keeping up with my plans!
A wise part of me knew that 48 hours in a jet-lagged state is no way to do that. That I have to go back with friends who would to love explore it with me and do this at some other time. A wiser part of me was ready for some randomness being injected into my plans so as to sample the essence of this phenomenon of Delhi in just 48 hours
Energetically I had asked the universe to change my plans :)
We landed at about 2:30 AM at Indira Gandhi International. This airport is huge, brightly lit, very clean, artsy, efficient (immigration wise) and welcoming! Well, the airport played sappy Bollywood songs that made me say to myself ,..
The moment you land, India starts opening on your heart chakra!
After a few hours of sleep and a delicious breakfast at home we decided to head out to Hauz Khas which I had been hearing about over social media as a good place to check out and have dinner at Indian accent. Then along the way the Chris wanted to see Qutab Minar and so the plans reshaped. The universe was enabling my wish to peel history layer you see :)
Qutab Minar
While waiting for my uncle to buy our entrance tickets, I stood by the road and wondered how to feel about A) the heat and B) all the sights and sounds. I tried hard not to label my beloved India as too much of "something". In front of me were a few school buses with kids on a excursion, wedding parties with the bride being shy and henna on her hands, family picnics, people just passing through the area, workers, hawkers, all the transporters bicycle rickshaws, autos, cars, tourist buses, carters, teens on a date. Everyone wanting to get somewhere, where were they all going?
Lots of honks yet no one overly frustrated with either the heat or the chaos. It all just was!
All this was so new and familiar at the same time. I was visiting a place like this first time in 15 years and I thought I was getting overwhelmed. But really it was the heat. I would have enjoyed this reverse cultural immersion better on a cold winter day.
Inside, this UNESCO World Heritage Site there are green lawns and trees with chirpy parrots and mynas flying around. First we went to the tomb of a Sufi saint. Small room with a grave and not much. Next we went through these huge arches into a domed structure called the Alai Darwaza. There is gorgeous red stone and marble lattice work that actually looks like wood work. I wanted to stay for a while more but my family had moved to the main attraction :)The minaret. Seeing it up close I realized it was remarkably well preserved. Also, I couldn't see any concrete and got super puzzled. When we reached the courtyard, the iron pillar and the temple pillars in the middle of the courtyard that was suppose to be a mosque puzzled me even more. I imagined it was all part of the invasions. Left me a bit unsettled. After some walking and chilling I figured...
Invasions are happening around the world even right this moment. Someone is getting thrown out of their home right this moment..We still have a chance to make a difference, to change the story that a future generation would read. That change needs to begins with us.
I would give about 1.5 hours to discover this place with a guide on a chill winter day. And then add 30 mins to get some good shots. For this time I had to make do with blurry pictures and sweaty palms. :)
Hauz Khas
After being beat with the heat on the open lawns of Qutb complex, we headed to Hauz Khas which I thought was an upscale neighborhood with cafes, clean roads and cute boutiques with some historic ruins near by. Its not an upscale neighborhood and its not clean. Yes, there are a cool cafes, chic restaurants, artsy shops and upscale designer boutiques and it was still fun. We first went the wrong way, through dirty and smelly alleys and came to a dead end. We turned walked back to the the entrance of the main street.
Exhausted and hungry we stood still for a moment and there is was..
Ogaan, a boutique I follow online so, I knew it would be fun. Inside, it was cool, calm and quiet and the guys chilled while my aunt and I checked out their exhaustive collection of contemporary and traditional wear from top Indian labels. Win-win! The store is built around preexisting historic homes, so its kinda cute and goes deep room after room and feels never ending. There is a cafe upstairs to catch a break from shopping but we stepped out wanting a really late lunch/early dinner at a resturant.
Next, we stumbled upon a restaurant called Social. Seems more like a hangout for the young and hip of ND than a family hangout place - we passed it for now. Then finally when we were very very hungry we discovered Naivedyam, a south India restaurant. It had us cheering up at the sight of the Nandi in front of the main door. It reminded me of south Indian temples and so we thought the food must be good. Inside, wooden ceilings and pillars plus the meticulously painted Tanjore paintings made it feel like we are sitting in a south Indian temple if not at an old Iyengar heritage home. The South Indian thali looked and tasted amazing. The yummy paan sealed the deal!! We had a great time as my aunt and uncle enjoyed this place a lot too :)
By the time we left it was 6 PM. So we cancelled the Indian Accent dinner ( more randomness taking over ) and decided to take a drive through the capital's governmental side. Ended up at India gate. We went close to the memorial and stood in silence for a minute. Decided to head back home and beat the jet-lag.
Day 2 Change of plans again!
Initial plans for day 2 was Red Fort in the morning. Jama Masjid afternoon. Chandni Chowk in the evening and then meet up with aunt and uncle at Lakhori at the end of the day for dinner. We showed up at Red Fort to execute that plan but turns out historic places are closed on Mondays in ND. Check before you go. Duh me! :(
Again, we decided to make the best of our time headed to check out the Indira Gandhi's house/memorial which of course it was closed. Then we just decided to forget everything else and driving through Rajpath. This was fun and brought back memories of republic day parades on that same road that we watched every year on TV as a ritual. We also drove by the Presidential palace.
Khan market
We then headed to Khan market for some window shopping and I ended up getting a new dress from Chris :D. Then, I took Chris to Cafe Coffee day. Its always a precious time showing your partner what you did growing up. Isn't it? I'm glad he liked their cold coffee as much as I did.
Jama Masjid.. or Should I say Road to Jama Masjid ?
We decided to head back and continue our afternoon plans. Our driver dropped us off near JM, he said just walk straight on this road and you will see it. He then left. 10 seconds I heard Chris say.
"Niv, I feel like I just got dropped drop off in war zone in gears of war".
We had a laugh about it. Yes, It was intense! a sensory overload. people, cars, bikes, bicycles, bicycle rickshaws, auto rickshaws, hand carts and everything in between on the roads and then on the side of the road life was happening full spectrum. All kinda of shops and vendors almost took over the foot path. Since Chris had't been to anything like this before ever, he was more overwhelmed than me. All my attention then went to make sure he is OK. After a few minutes of taking in the scene I started feeling better but really we both were super guarded. Hind sight that just feels unnecessary.
As we walked past a live TV interview, we realized that the courts had just banned fireworks for Diwali and the merchants in the market were reacting to it. It was as real as it gets. We were feeling the pulse of this place. We walked past several little shops. Each one amazed me and I wanted to go inside and check them all out. But we kept walking. There were jewelers, natural medicine shops, sweet marts, brass stores, silversmiths, more firework stores, clothing stores and so on.
It was so chaotic and so B E A U T I F U L! I would love to go back again and check them out at ease. And see how that feels.
Jama Masjid actually. Finally!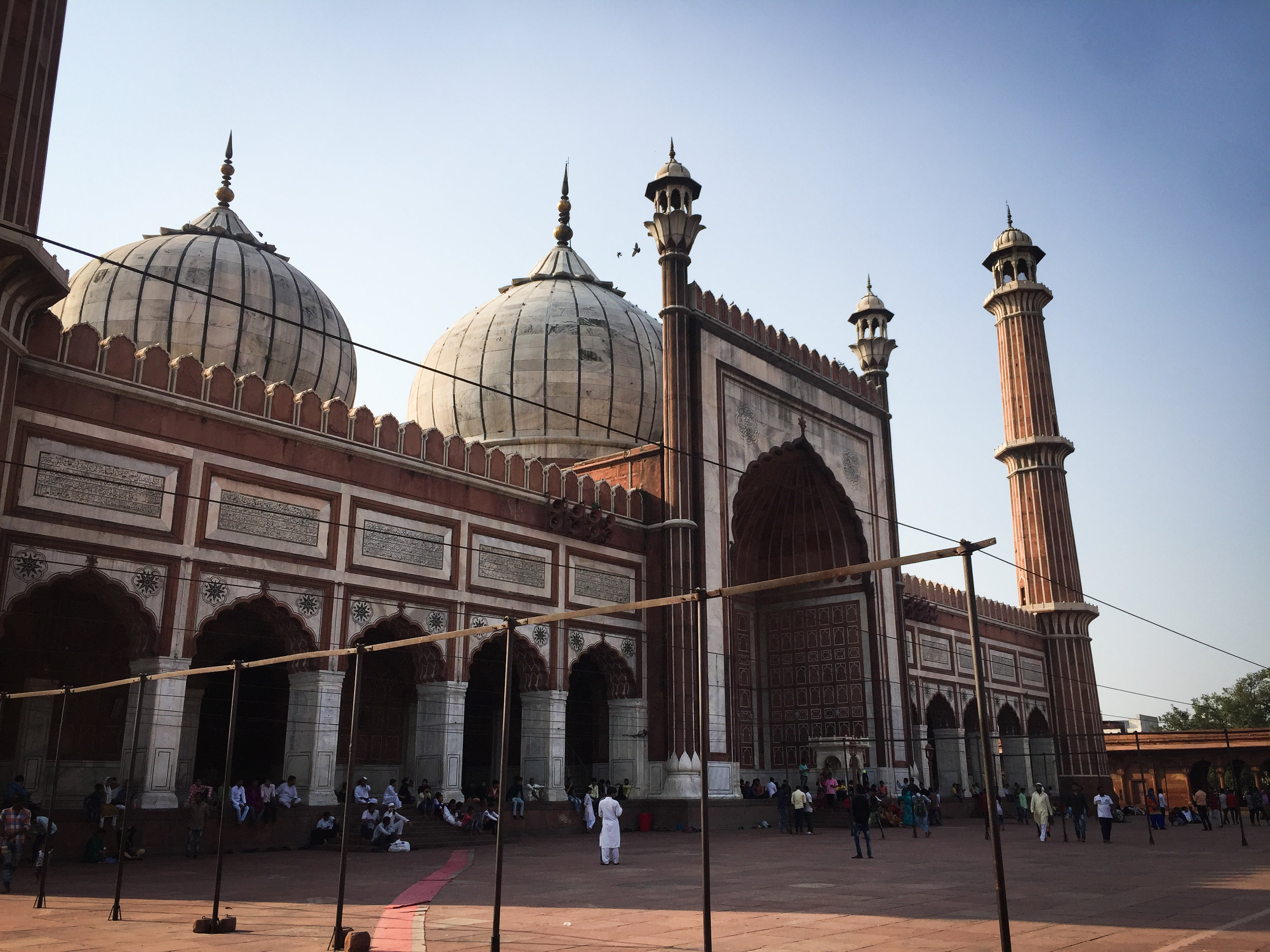 Once we managed to cross the road in front of the Jama Masjid JM, we were captured by its beauty. The rusty red sandstone, the marble inlay work and domes, so grand and classy! On the steps leading up to the gateway, we saw people who looked like they haven't got a care in the world and just sit there all day. At the entrance Chris got handed a lungi so as to appear modest. I anticipated such stops and painstaking wore jeans even on a really hot day so, I passed without a stop at modesty check. Next stop was to pay Rs 300 ($5) each for carrying a phone with cameras on it. Finally we made it to the grand courtyard.
Inside you just explore however you want. There are 3 doors and a huge courtyard that can hold up to 25 K people for prayers. It was built completed in 1656 AD and cost a million rupees back then - which means it would be a 1000 times that now easily!! There were tourist both local and foreigners. People praying and some picnicking.
Keeping up traditions
On the way in I saw these friends, two old guys sitting and chatting like that is all they do all day. I looked up a few steps and there were 2 other young guys doing the same.
Other Misc memories
When we first got into the courtyard, I decided to first wash my hands and feet as trying to follow tradition to make the experience more real. This experience turned out to be super weird when the I looked at the super murky water only after I had already dipped one hand in. Half a bottle of Purell later I was still paranoid that I would fall sick and the rest of vacay would be bad.
Another things was I decided to skip climbing the minaret as it looked like it was not worth it. While I was waiting downstairs for him I saw a white woman and 4 men just standing and staring at her while she waited for her partner to come back. I went and sat with her and apologized to her on their behalf. I still need to process why I did that.
We got out of the mosque and realized we were actually in Chandni Chowk. We were hungry and went hunting for the very famous "Gali Paranthe Wali". Only deal is that we didn't have a map.
So,we walked straight back went far too out and took the long way and missed bumping into Lakori and then getting extremely tired. We cut through Kinari Bazar road. This was a very crowded and narrow road but also came in the two way traffic of tricycles. Mixed with heat and my thoughts about the fire hazards of this place made sure that I did not enjoy this walk. I was claustrophobic, just wanted to find the Paranthas, eat them and be airlifted out. We kept walking for a good 20 mins I think.
Finally we came up on a turn that looked different. People said it was indeed the Gali of the Paranthas. Yay we made it!! This street was very different than I had imagined. It started and ended right in about 100 meters max. Hardly 5-6 places that made these dishes. I thought that this would be a foodie street. We visually scanned for the oldest/authentic experience and got a table. The places are open to the street and each of these shops has a open kitchen. I had no idea that these things are deep fried. We order 2-3 types and shared. They were filling but to be honest I was hoping to eat punjabi style parantha my mom used to make. Again, my expectation let me down, not the actual eats in the Paranthewali gali. They were well flavored, came piping hot with a bunch of condiments. Even with stuffing I have never heard of - Like Rabri (condensed milk) and Mirchi ( Green Chillies). I would love to give a second chance to this place someday.
Lakhori will need to wait! >>
By the time we made it back from Parantha eating via Kinnari Bazar to the place where the taxi guy dropped us, it was about 5:00 PM and we just couldn't fathom killing another few hours before our dinner reservation. Actually we were only 5 mins for Lakhori and we could have just dropped in for drinks and thought that over. But we didn't have a map. We turned on voice only international roaming and called aunt to say we are planning on getting back. She mentioned that my uncle was stuck in meetings and he wasn't gonna make it to dinner. We agreed to call it a day! It was an amazing experience. Even though overwhelming, felt like we experienced a totally different kind of life and its complexities of life up close. Strangely it felt hard to go through but also left me wanting to come back for more some day.
Good Bye New Delhi,
Even though I could't make it the 2 resturants this time, I treasure all the memories you gave me.
You are sooo unique,beaituful and memorable!
The next morning we got out of ND via Indira Gandhi International Airport and got on a flight to Jodhpur. Before we left we stopped at Premium Plaza Lounge. Guys, this is the best lounge in the world I have been to so far. They are comfy and cozy, clean etc but they have the best food.
They have a hot Dosa counter, a masala chai/coffee counter and an omelette counter. OMG! This was a real nice finishing touch to our ND memories.
Breakfast at Plaza Premium Lounge
Indira Gandhi Internation Airport, New Delhi.
Next up Jodhpur. Coming next week to TOJI
Thanks for taking the time to read. Comment and LMK how you are liking my shares. What do you want to see more of and what do you want to see less off.
xo, Namaste!